A world of opportunity
For over 30 years, millions of patients have trusted Optical Express with their eye care. With over 100 locations across the UK and Ireland, we are already the market leader of laser eye surgery, premium lens surgery and private cataract surgery.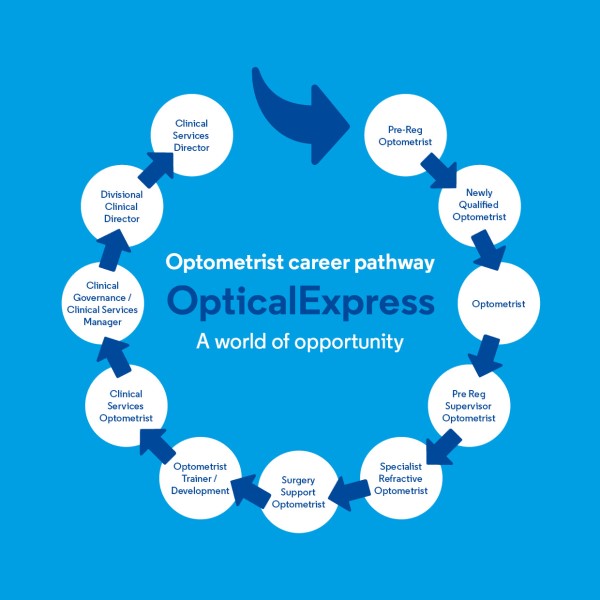 But we won't stop there. We are looking forward to continuing to change patients' lives through the services we offer, and we have big plans for growth. Right now we are opening new high-tech clinics and recruiting new clinicians across the country.
If you want to be part of a growing team that is committed to delivering outstanding clinical outcomes and a world class patient experience, each and every time – we want to hear from you. In return, we will support you to maximise your potential as an optometrist. At Optical Express, we offer unrivalled career development opportunities, truly diverse clinical experience and industry-leading salary and benefits packages. We have and continue to make significant investment in technology to ensure our clinicians can deliver leading levels of patient care.
Make the most of your skills
At Optical Express we know our people are our strongest asset, and we want to ensure that our dedicated team of clinicians, have the resources available to allow them to reach their full potential. Whatever stage you are at in your career, and whatever your ultimate career goals are, we will work with you to help you get there.
You might be a newly qualified optometrist who knows very little about refractive surgery presently, but if you are dedicated and keen to learn, the opportunities are endless.
Perhaps you are already experienced in day-to-day refractive or shared care optometry and would like to help others achieve your level of knowledge, in which case we have a range or roles which involve the development of less experienced colleagues.
Grow your skills as part of a world-leading team
As the UK and Ireland's leading provider of complete eye care, from specialised refractive optometry to routine eye and contact lens examinations, no other optical business can offer optometrists the same clinical diversity and opportunities for accelerated career development. You will work alongside our expert ophthalmologists and senior optometrists as part of our refractive and cataract surgery offering to patients, meaning you'll be involved in leading edge practices, learning from some of the country's top specialists in clinical eye care. You will be able to offer patients a wider range of clinical solutions than what is possible in many traditional optometry settings. We strive to make a difference to our patients' quality of life.
As part of the Optical Express clinical team, our optometrists benefit from the opportunity to develop new skills and grow their clinical confidence.
For example, we encourage all of our optometrists to gain their Independent Prescribing qualification, fully funded by Optical Express. IP support doesn't just stop at the funding of the university course. We also provide clinical placements through our ophthalmology network, meaning you gain advanced skills and knowledge which not only benefits you, but also your patients.
This kind of opportunity just isn't readily available in day to day optometry, but because of Optical Express's industry leading position, we can offer real career progression for our optometrists.
Be part of a team that cares
We have a strong commitment to giving back to the communities we serve and we're passionate about our planet and reducing environmental harm. We are at the forefront of raising awareness of the environmental impact of the eye care sector. Our optometrists have a key role to play in our work to reduce the carbon footprint of our clinics and to help patients make environmentally friendly eye care choices.
Join our growing team
Join us now and be part of our growing team that is going from strength to strength as we open new clinics across the country.
You might be early in your career and ambitious to expand your knowledge with a leading provider, or already vastly experienced but ready for a fresh and rewarding opportunity. Whatever stage you are at, we'd love the opportunity to speak to you.
For more information about current vacancies, please email careers@opticalexpress.com and our recruitment specialists will take it from there.